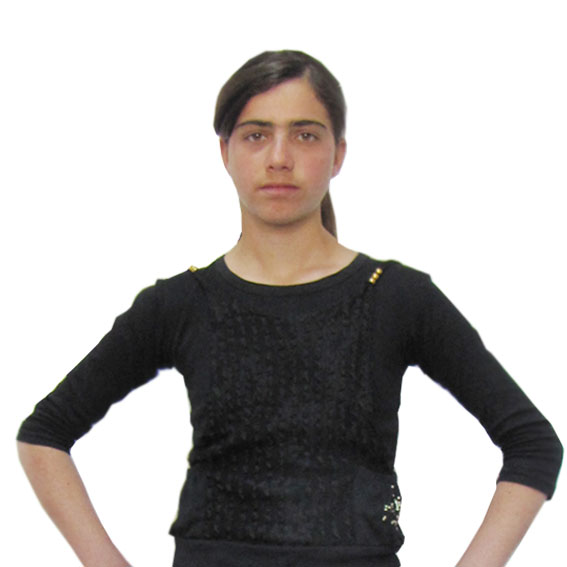 Varduhi Saaryan
April 15 , 1996
Varduhi's family ives in Arteni village. Her parents, not having permanent jobs, support their 4 children by being involved in agricultural activities. Varduhi's bigger brother was discharged from military service because of a severe head injury he received accidentaly while working. Varduhi's sister is married and lives separately with her husband. Smaller brothers study at school, one of them will join the army this year after hafing graduated. Varduhi herself has general school eduacation. Her parents do not want her continue the education because of her disabilty, they are afraid of letting her go to University alone every day.
Address:
Aragatsotn region, RA
Tel.: (374)98 393-063; (374)94 723-440; (374)77 557-163
Treatment Information
Diagnosis
Congenital left hip dislocation, symptomatic hip, LLD 8 cm.
With your timely support today, you will allow Armaveni Charitable Foundation to provide life-changing surgeries to more than 250 patients from Armenia, Artsakh, and Javakhk.
Intermediary bank:
Standard Chartered Bank
New York, USA
SWIFT: SCBLUS33

Correspondent bank:
Raiffeisen Bank International AG
Address: Am Stadtpark 9, 1030 Vienna, Austria
SWIFT: RZBAATWW

Beneficiary bank:
ACBA-CREDIT AGRICOLE BANK
SWIFT code: AGCAAM22
correspondent account n. 070-55.083.711 (DO NOT use as beneficiary account number)
Beneficiary name: "Armaveni" charitable foundation
Account number (USD): 220003351651001
(AMD): 220003351990000
Treatment Procedure
Pelvic support osteotomy by Shantz- Ilizarov.
Treatment Duration
6 months
Prognosis
Elimination of LLD, improvement of gait and function of the hip.
Treatment Cost
3080000 AMD
0 USD
0 EUR
Before the treatment