Gayane Abrahamyan
July 04 , 2000
Gayane's family faced a lot of difficulties. Her grandfather died in Baku in 1988, after that her grandmother fled to Armenia with her daughters. Thus, she lost her contact with all their relatives and other family members. Unfortunately, Gayane's mother passed away a few months ago, and she does not even know where his father lives now. Due to financial hardship and her mother's disease, the children had to live in the Naghashyan Children's Support Center where her 10 and 13 years old sisters live until now. During her stay in the orphanage, Gayane learnt needlework and hairdressing. She tried to find a job to help her mother, but she was unable to get a permanent job because of her disease. Now she lives with her friend at a rented apartment in Yerevan. Gayane's aunt supports her financially to cover her basic expenses, but it is, unfortunately, not enough to afford the treatment.
Address:
Yerevan, RA
Tel.: (374)98 454-307; (374)93 990-811
Treatment Information
Diagnosis
Posttraumatic LLD by 9 cm, existence of foreign body (metallic plate).
Treatment Procedure
Femur lengthening by Ilizarov technique.
Treatment Duration
10 months
Prognosis
Elimination of LLD, perfect gait.
Treatment Cost
3600000 AMD
0 USD
0 EUR
Before the treatment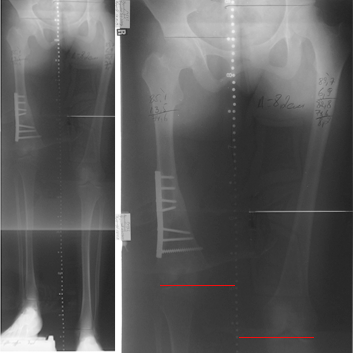 In treatment process